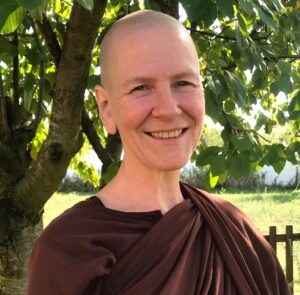 Ayya Anopama has practised Vipassana meditation since 2002 and spent extensive time in intensive retreat in Burma where she ordained as a Theravadian Buddhist nun with Pa Auk Sayadaw in 2013. After her monastic training she shared with various monastic communities across continents. Her teachers include Bhikkhu Analayo, Ajahn Brahm and Ashin Tejania as well as Jetsunma Tenzin Palmo and Mingyur Rinpoche. Her approach to meditation focuses on wakefulness and compassion and integrates Insight Dialogue as a powerful vehicle for awakening. She has been invited to the Insight Dialogue Teacher Development Cohort for Vipassana Teachers and Monastics and is affiliated to Tilorien Monastery in Belgium.
Events with Ayya Anopama
Durante este programa online de seis semanas nos reuniremos semanalmente para practicar las seis pautas del diálogo consciente. ¿Qué ocurre cuando haces una pausa consciente y relajas las tensiones? ¿Qué descubres cuando te abres a una conciencia más amplia y sintonizas con el cambio continuo de la vida?