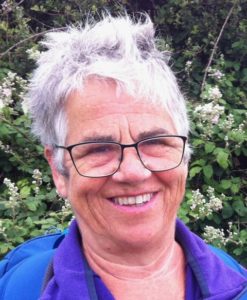 Jane Whitehead has been practicing Insight dialogue since 2008. She co-facilitates a local group, day-long and weekend Insight Dialogue retreats in Bristol, UK, with Jane Cutler.
Jane is a zen teacher and has been practicing meditation for over 30 years. She received Inka – permission to teach – from Zen Master Dae Gak of Furnace Mountain, Kentucky, in 2018.
Events with Jane Whitehead
Drop-in sessions are the last Monday of each month at 9:00-10:30 am in the UK. This practice session time may work for practitioners in Oceania and China. Drop-in sessions are open to anyone with Insight Dialogue experience. You may join a drop-in session once or monthly; it's up to you.
Every Wednesday practice group with Jane Cutler, Jane Whitehead and guest teachers and facilitators, UK time 7pm – 8.30pm, CET 8pm - 9.30pm, EDT 2pm – 3.30pm